Traffic Offence Lawyers in Melbourne, Victoria
We are traffic lawyer specialists experienced in defending clients charged with traffic offences in Melbourne. Our team of traffic offence lawyers is dedicated to providing exceptional legal representation and guiding you through the complexities of the legal system. If you are facing a traffic offence charge, you need to speak to one of our experienced traffic offence lawyers.
Melbourne Traffic Lawyers Near You
Conveniently located, we have multiple offices around Victoria. Our firm serves clients throughout the city and surrounding areas. We have offices across Melbourne, including Broadmeadows, Frankston, Dandenong, Ringwood, Moorabbin, Geelong, Werribee, Ballarat and the Melbourne CBD.
See our office locations page for a complete list.
Our traffic lawyers regularly appear in the local courts, including the County and Supreme Courts, and are well-versed in the specific procedures and nuances of each jurisdiction.
Whether you are facing charges for driving with a suspended license, drink driving or drug driving offences, or any other traffic-related matter, our dedicated traffic lawyers are here to provide comprehensive legal support and a strong defence tailored to your specific case.
We work with some of the most preeminent traffic law barristers, who have helped shape the law concerning how the Supreme Court interprets the drink and drug driving legislation.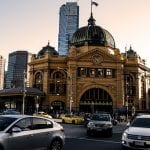 What is a Traffic Offence?
A traffic offence refers to any violation of the laws and regulations governing the operation of motor vehicles, including motorcyclists, on public roads. Traffic offences include a wide range of violations, from minor infringements to serious offences resulting in imprisonment. Our traffic offence lawyers comprehensively understand the various traffic laws and can provide expert guidance and representation for all traffic offences.
Types of traffic offences in Victoria
There are many types of traffic offences ranging in seriousness, including:
Driving carelessly or dangerously (including hoon driving)
Drink driving, drug driving or a combination of both
Offences relating to car accidents
Offences related to P-plate or Learner drivers
And many other minor traffic offences.
Some traffic offences, such as culpable driving or dangerous driving causing death or serious injury, carry very serious penalties.
There are other offences that, although are not considered specifically traffic offences, are often used to capture very serious driving-related offences, such as reckless conduct endangering life or causing serious injury and negligently causing serious injury. Many lawyers do not realise that proving these charges is often very difficult; consequently, the importance of engaging an experienced traffic lawyer can not be overemphasised.
Summary and indictable traffic offences
There are many traffic laws in Victoria. As discussed, some are considered minor summary offences; however, serious and indictable traffic offences, such as those involving death or serious injury, are considered very serious and almost always result in a gaol sentence being imposed.
Summary offences under the Road Safety Act 1986 include:
Under Victoria's anti-hooning laws, the Victoria Police also have increased powers to impound, immobilise or permanently seize a vehicle in relation to summary offences defined under the Road Safety Act 1986 (Part 6A) and the Road Safety Rules 2009.
Indictable offences under the Crimes Act 1958
include:
Traffic offence penalties
Traffic offence penalties range in severity depending on the seriousness of the offence.
Common penalties for traffic offences include:
Suspension or disqualification of driving licence
Vehicle impounding
Examples of summary traffic offence outcomes Victoria
See two examples of outcomes achieved for our clients charged with summary offences in Victoria, including charges for multiple traffic offences and careless driving.
Traffic offence penalties for serious driving matters
Serious traffic offences involving death or serious injury caused by culpable or dangerous driving of a motor vehicle are liable to severe penalties. A guilty finding for a serious traffic offence usually results in an immediate custodial sentence (imprisonment).
From the perspective of Victoria police, whether or not serious injury or death results, the driver of the offending vehicle will most likely be charged following an accident. Unfortunately, the police typically consider that there is no such thing as an accident, particularly when other drivers are involved, and often pursue prosecution even if the elements of an offence are not supported by evidence.
Culpable driving causing death is committed when a person drives a motor vehicle negligently, recklessly or while under the influence of drugs or alcohol and causes the death of another person. A person found guilty of this offence is liable to a maximum penalty of 20 years imprisonment, a level 3 fine or both (s318 of the Crimes Act 1958).
A person found guilty of dangerous driving causing death is liable to 10 years of imprisonment, and the maximum penalty for causing serious injury is 5 years (s319 of the Crimes Act 1958).
Seeing a traffic offences lawyer early is essential if you have been charged with a serious traffic offence, especially for a charge related to causing an accident resulting in injury or death. Your lawyer needs to obtain reports, engage consultants and gather evidence by subpoena or otherwise.
Why you need a traffic offence lawyer
Charges such as careless driving, loss of traction, driving with a suspended licence or making unnecessary noise and smoke may seem like minor things you can deal with without the expense of a lawyer. However, these charges carry discretionary licence loss, which means that the Magistrate or judicial registrar decides whether and for how long you lose your licence.
As many factors can and should be presented to persuade a Magistrate's discretion in your favour, an experienced traffic lawyer who understands the local Court and discretionary factors is critical for you to achieve an optimal outcome.
Furthermore, a traffic offence can result in severe penalties, such as license suspension, severe fines and even imprisonment, which can dramatically affect your life and result in a charge on your record permanently. For more information, see our page on avoiding a criminal record.
Seeking professional legal representation is essential to protect your rights, present a strong defence and achieve the best possible outcome.
How our traffic lawyers can help
As specialist traffic lawyers, we have extensive experience dealing with traffic-related matters in the Magistrates' Court, County and Supreme Courts. Our traffic offence lawyers have successfully handled a wide range of traffic-related matters.
Our traffic lawyers are available to help you with the following, depending on the nature of your charge:
Keep your driver's licence or decrease the time in which your licence might be suspended.

Avoid a custodial sentence or minimise the time you spend in custody.

Liaise with police or prosecutors to negotiate the withdrawal of some or all charges against you, potentially saving you from losing your license or even imprisonment.

Getting charges withdrawn saves you from incurring time off the road, demerit points and potentially gaol, depending on the nature of the charges.
The process for traffic offence charges can be confusing, and the procedure for defending traffic matters in the Victorian court system depends on the charge against you. We are here to support, represent and guide you.
Minor traffic matters
Typically, you will receive an infringement notice or fine for minor traffic matters in the first instance. If you do not pay the fine, you will be subject to further penalties and may be required to attend the Magistrates' Court.
See 'Disputing speeding fines in Victoria' for more on appealing traffic infringements.

Serious traffic offences
For more serious traffic offences, you will be charged by a police officer and required to attend Court. At Court, you will either adjourn the matter or enter a plea of guilty or not guilty. Our traffic offence lawyers will advise and represent you in Court to provide the best possible defence and optimal outcome available to you.
Summary and indictable charges
Most traffic charges are classified as summary offences, which must be heard in the Magistrates' Court of Victoria. Charges for indictable offences generally arise when someone has been seriously injured or killed. These matters are typically heard in the County Court or Supreme Court of Victoria, but may begin in the Magistrates' Court before proceeding in the committal stream.
Some indictable traffic offences, including Dangerous Driving Causing Serious Injury, can be heard summarily in the Magistrates' Court, like summary offences. In these cases, the presiding Magistrate determines an appropriate penalty, not a judge.
If you plead not guilty, the presiding judicial officer (judicial registrar, Magistrate or judge) will hear and assess the evidence against you. For a conviction, the prosecution must prove all elements of the crime beyond a reasonable doubt. If you have a defence to the charge or the prosecution fails to prove all elements beyond a reasonable doubt, you will not be held criminally liable for the offence and may be awarded costs.
There are many defences available in relation to traffic offences. To find out more, contact one of our traffic defence lawyers.
Contact the best traffic lawyers Melbourne
We don't just talk the talk, we walk the walk, see our reviews from clients. Our lawyers care about what happens to you, and they have the experience and skills to ensure that the right outcome ensues. Our lawyers understand how traffic charges can impact your life. We are committed to protecting your rights, providing the best representation tailored to your circumstances and helping you navigate this challenging time.
Our Dribbin & Brown Traffic Lawyers understand how stressful it is to deal with traffic offences. Right from the beginning, being arrested or summonsed and charged with a traffic offence can seriously affect you and your family. Losing your licence or receiving a criminal conviction can mean losing your job, causing financial stress.
If you are facing a custodial sentence, you have more than money at risk. Being incarcerated is detrimental to relationships and family, with loss of income potentially leading to a loss of secure housing.
You need to speak to a lawyer who can help you take that all-important next step, and you need someone who can explain the process in a language that makes sense. Our Dribbin & Brown Traffic Lawyers team is here to mitigate these risks and work with you to achieve the best possible outcome.
Dribbin & Brown Traffic Lawyers are the best choice for you. We are in court every day, we know the procedure and have the experience and dedication to achieve exceptional results for our clients.
Call Dribbin & Brown Traffic Lawyers to make an appointment so we can help get you back in the driver's seat of your future.