Breach Intervention Order Ringwood, Assault Property Damage – Fine – Ringwood Magistrates Court
Breach Intervention Order Ringwood Charges:
Breach Intervention Order Ringwood Penalties:
Family violence and violence against women has been a focal point of law enforcement in Victoria in recent years. In turn, the Courts have taken a dim view of those who commit family violence-related offences. This essentially means that if an assault is committed in circumstances of family violence it is considered aggravating and more serious than in most other situations.
Section 18 of the Crimes Act 1958 (Vic) sets out the maximum penalty, being five years imprisonment. The offence of recklessly causing injury requires the following to be proven beyond reasonable doubt:
That an individual causes an injury in another;
That the injury was caused by that individual acting recklessly;
That the individual does not have a lawful excuse, such as self-defence.
Unlawful assault carries a maximum of three months' imprisonment and is set out under s23 of the Summary Offences Act 1966 (Vic). The offence is proven where an individual, without permission of another, intentionally touches another person without a lawful excuse to do so. (An example of a lawful excuse would be during a football match, or by accident in a crowded area.)
Breaching a Family Violence Intervention Order also draws a charge, which carries a maximum penalty of two years' imprisonment and heavy fines.
Breaching an order at least three times in a period of 28 days triggers a further, more serious, charge of "persistently breaching an intervention order (IVO)". This offence carries a maximum of five years imprisonment and a higher maximum fine.
Property damage also carries heavy maximum penalties (10 years imprisonment) and can also be characterised a form of family violence in certain circumstances.
Breach Intervention Order Ringwood Facts:
Our client was a 47-year-old male at the time of the offence. The offences for which he was charged involved physically assaulting his ex-partner, cutting her phone charger cord and breaching an intervention order 32 times.
Our client was arrested and interviewed, where he made admissions to breaching the order by sending text messages to the victim. He also admitted to cutting the cord of her phone charger after an argument about her refusing to let him use it. He vehemently denied any assault against the victim, despite admitting to grabbing her by the throat and squeezing for a short period. He stated that he was acting in self-defence.
Police charged him based on the evidence available, which included pictures of the victim's injuries, her statement and the contents of our client's admissions in interview.
With a long history of prior assaults, criminal damage and burglaries in the past, our client had previously been subjected to numerous corrections orders and suspended sentences.
He sought to defend the charges in Court and instructed our solicitors to negotiate with the Prosecution to have some charges withdrawn.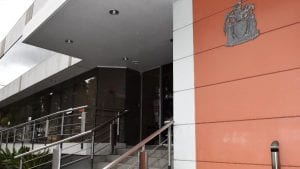 Breach Intervention Order Ringwood Result:
Our client attended the court in relation to the charges with one of our firm's solicitors. The solicitor sought to negotiate the charges with the Police Prosecution, in line with our client's instructions.
In relation to the assaults, our solicitor argued that the alleged assaults were committed during an attack on our client by the victim. Our client had been sleeping in his bed and had put a chest of drawers in front of the door to stop the victim coming in. The victim, who was heavily intoxicated at the time, had barged in and immediately started hitting our client. Our client woke up and instantly reacted in self-defence. Crucially, his actions did not go beyond stopping the assault on him. For a self-defence argument to be successful, one's actions must be necessary and not go beyond what is a reasonable response in the circumstances. Upon review of the evidence, the Prosecutor was eventually persuaded to see our point of view and decided to totally withdraw assault charges.
In relation to the property damage, not much discussion could be had as our client had readily admitted to the conduct in interview.
In relation to breaching the IVO, our solicitor reminded the Prosecutor that:
the breaches consisted of sending text messages;
the texts were not threatening; and
the victim had been replying throughout.
The Prosecution agreed with this and withdrew the individual breach offences, instead rolling them up into the persistent breach charges.
As a result of the negotiations and detailed analysis of the evidence (and despite our client's admissions), the most serious charges along with 34 of the 37 charges were withdraw. Following the negotiations, the entire landscape of our client's situation had changed.
A plea of guilty was entered to the remaining three charges. Our client's case was considered by a Magistrate and it was highlighted by our solicitor, again, that the nature of the persistent breaches was a series of non-threatening text messages.
In relation to the property damage, we highlighted our client's remorse and that he had replaced the charger the next day. The charge, although carrying a heavy maximum penalty and family violence related, was a significant de-escalation of the offences our client had committed in the past.
In the end, the Magistrate agreed and was persuaded to impose a $500.00 fine with conviction.
This was a fantastic result for our client as his situation had changed dramatically following professional and strong negotiations with Police Prosecution. Our client initially thought that his options were limited given his charges. If we had not successfully argued that he was acting in self-defence to the assault charges, our client would have been likely to be put in prison that day. Instead, he walked out of Court with a fine.