What is a character reference for court?
If you have to go to court, a character reference is an important tool used by criminal lawyers to demonstrate to a Magistrate or a Judge why a sentence should be mitigated. A character reference is a written letter and plays a crucial role by informing the Magistrate or Judge about the character and personal attributes of the Defendant.
There are many different facets to why a character reference is important and it should be first considered by an experienced criminal lawyer prior to any character references being exchanged with the prosecution or a judicial officer.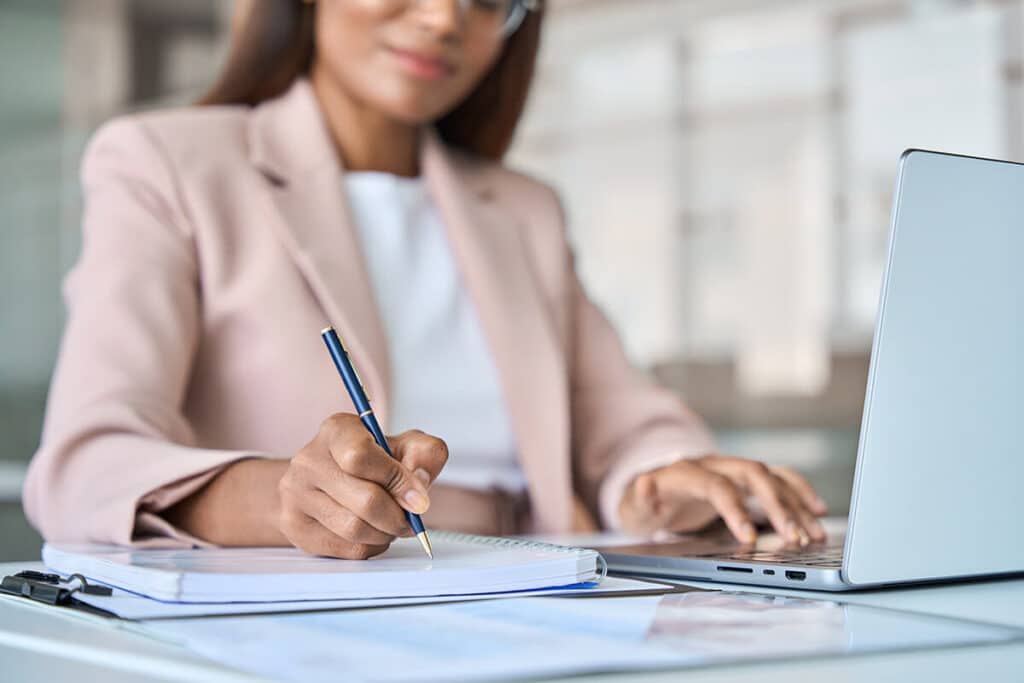 Why do I need a character reference?
When an accused person is sentenced after a guilty plea or being found guilty, they must attend Court for sentencing. A character reference is essential and may influence the sentence imposed by the sentencing Judge or Magistrate. During the sentencing process, the Defendant's lawyer presents written character references to the prosecution and the Magistrate or Judge.
Character references are an important consideration when determining an appropriate penalty during sentencing. Mitigating factors, such as the circumstances leading to the offence, the Defendant's overall character and exceptional circumstances may reduce the severity of the penalty or sentence imposed.
If there are exceptional circumstances
A court finding of "exceptional circumstances", also known as special circumstances, allows the Court to consider whether family hardship is a mitigating factor during sentencing. The sentencing Magistrate or Judge may find exceptional circumstances if the hardship that the Defendant's family members will suffer as a result of the Defendant's sentence is extreme, but this is a very high bar.
If any factors in the Defendant's personal circumstances may be relevant to a finding of exceptional circumstances, it is important that these are detailed in a character reference, and considered by an experienced criminal lawyer before being provided to the prosecution or the bench.
How many character references should I get?
Generally, the more character references you can provide, the better. Your criminal lawyer can help you choose the most appropriate character reference and guide your referee to include the most relevant and helpful information. Quality over quantity is always important to consider here, the other factor that will play a role in determining the number of character references will be the nature of the offence and the seriousness of the matter.
Who should I ask to write a character reference?
The most compelling character references are usually provided by family members, a close friend, family friend or work colleagues who have frequent contact with the Defendant and understand the Defendant's circumstances in the context of the offence.
Family members
A partner can comment intimately about how an offence might have impacted an accused person. For example, "Since committing this offence and being interviewed by police John has not been the same. He has been extremely distressed and concerned about the impact of the case on the family and his ability to work and support us. Not a day has gone by where John has not expressed his remorse to me."
A mother or father of a young person can also offer valuable insight. For example, "Since committing this offence I have seen a huge shift in my son's behaviour. He has stopped hanging around the people I think were leading him astray, found a new girlfriend, stopped drinking and focussed on his work. As a condition of being at home, he has also had to do some drug screens, which were all clean. I am confident he has turned the corner."
Employers or past employers
For example, "John has been employed with us for 3 years. In all of that time, he has been punctual, reliable and an absolute asset to the company. I was shocked to hear that he was caught driving whilst suspended. My observations were that he would turn up to work on public transport, and I did not see him drive. For him to commit any offence is completely out of character. We are looking forward to him regaining his licence, and there is a promotion waiting for him when he does".
Colleagues or past colleagues
Comments from colleagues or past colleagues on the person's performance in the workplace, general demeanour, the offending, and any remorse demonstrated are valuable.
Friends
As above, comment on the length of the friendship, general demeanour, the offending and any remorse demonstrated by way of discussions around the allegations and why the offending might be out of character if no similar prior matters exist.
Writing a character reference
If you have been asked to write a character reference for court, consider the following tips, formatting guide and examples.
Remember to give specific details and relevant character traits, including examples supporting your opinion. Always consult the Defendant's criminal lawyer when writing or requesting a character reference.
Tips
Get the references to the defendant's lawyer early: Getting your character reference to the criminal lawyer early allows them to consider whether further information may be helpful or if any areas require clarification.
Write the character reference as a letter: Set out your reference on official letterhead if you are an employer or own a business, and type on a computer to avoid difficulties interpreting handwriting.
Addressing the Court and Judicial Officers: For cases heard at the Magistrates' Court, address the reference to 'The Sentencing Magistrate, [court location and court]'. For cases heard at the County or Supreme Court, address the reference to 'The Sentencing Judge', [court location and court]. Refer to the Magistrate or Judge as "Your Honour".
What not to do
Never provide false or misleading information.
Never suggest what might be an appropriate penalty.
Never criticise the law, police, prosecutor, or the victim.
Never suggest that the offence committed is 'out of character' if they have committed other similar offences or if their character or reputation assisted them in engaging in the criminal conduct.
Never state that the defendant is not guilty.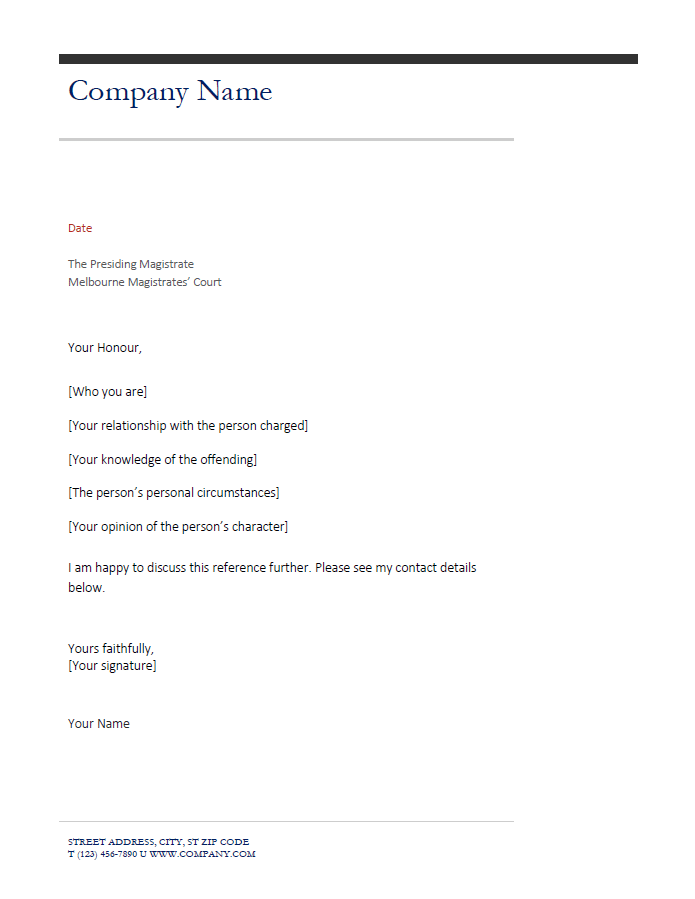 Formatting
The best character references address only what you know about the Defendant from your relationship and give examples supporting your insights.
Character references are an important opportunity to show the Court the Defendant's positive attributes, good character and if they have shown remorse or insight into their actions.
The headings below may help structure a character reference. Consider the examples included where relevant.
Introduction
Set out who you are, your occupation and what other responsibilities you may have. Include any titles held, qualifications you may have, and whether you are a member of any community groups or sporting organisations.
Relationship with the defendant
Remember, the Magistrate or Judge does not know the Defendant. They rely on lawyers and documents such as character references to provide this information.
Explain how you know the person.
'I have known John for 2 years, he is a kind person, a great friend and colleague. He has supported me during this time, and I will support him as he works through his behaviour issues.'
Provide detail about the person's life, the nature of your relationship and the role this person has in your life.
'Jane is my neighbour and supports me in many ways with my disabled son. She helps him in the garden, with chores around the house and we have been in regular contact for 7 years. She is kind and generous and I am proud to know her.'
Knowledge of the offending
Show that you are aware of the charges and the facts leading to the criminal offence. Demonstrating your knowledge of why you are writing a character reference for Court is essential.
Explain that you know the purpose for writing the character reference. You do not need to detail the offence/s specifically but it is helpful to use terminology consistent with the charges.
'John told me that he has been charged for assaulting someone.' or 'I know that Jane has been charged for stealing.'
If the defendant has demonstrated attempts at rehabilitation
Provide your observations about the person's life and their conduct around the offence.
If you believe the defendant has expressed remorse or shown attempts at rehabilitation, explain what you have noticed, such as:
if the person has sought counselling or support to address their behaviour
if they have told you that they deeply regret their behaviour or breaking the law
if they have apologised to the victim and acknowledged the harm caused by their actions.
Include whether the person has experienced other hardship or punishment because of the criminal offence itself, such as:
losing their job and are unable to support their family
feeling disgraced in their community.
The defendant's personal circumstances
A character reference should include what you know about the defendant and their life. Include what may have impacted their offending, such as misuse of drugs and alcohol, financial hardship, or mental instability.
'John has been experiencing depression and financial difficulties since his divorce. He is caring for his elderly mother and is worried about how this will affect her if he has to temporarily leave her.'
Indicate how you think a sentence is likely to impact the person's work and family life.
Jane has been a great work colleague and she is likely to lose her job due for breaking the law. She is a single mum and she doesn't know how she will provide for her family.'
Knowledge of "exceptional circumstances"
If you are aware of any circumstances that may result in extreme distress to the defendant's family in the event of their incarceration, it is important to include this in your character reference, such as:
If the defendant is solely responsible for particularly vulnerable children
If the defendant cares for their partner with a disability and there are no other relatives to support their children.
Do not refer to anything you write as exceptional circumstances, as this is a legal term, and it is not for a character referee to comment on legal matters.
Your knowledge of the defendant's character and attributes
Include what you know about the person's character and their criminal history in your character reference.
Find out if this is their first offence or whether they have committed other offences in the past.
Explain how the person has contributed to your life and the community and highlight their positive attributes.
Never suggest appropriate penalties for the offence or that they are of good character and reputation if they have a criminal history.
Acknowledge any criminal history
Acknowledge the person's history, how the person's offending affects your opinion of the person and reference any changes they are making.
In your character reference, ensure you:
Do not indicate that this offence is 'out of character' if the person has a criminal history or has been convicted of similar offences. This will give your character reference less weight.
Do not indicate what other penalties are appropriate for the criminal charge.
'I am aware John has been in trouble with the police for similar offences. I believe he has addressed his recent actions by paying for the damage he caused. He also seems to better understand his behavioural issues since starting therapy. He is a close family friend and has been like a second father to my kids. I hope he can still be there for us.'

'Jane is usually a caring person and is a close family member. I am aware that she has a criminal record from committing other offences relating to drugs. I am familiar with her history and aware of her recent drug use. I think she has addressed some of the causes of her recent relapse at rehab. She told me she is finally willing to accept support from our family.'
If the Defendant has no criminal history
If the person has no criminal record, it is important to state in your character reference whether they are usually of good character and are generally well regarded.
'John has a good reputation in the community, and he is the last person I'd expect to hurt someone or break the law. I am aware that he has made attempts to pay for damage he caused, and he is working to address his behaviour in therapy. He told me he was deeply sorry for his actions. His colleagues like him, he always follows company policies, and I hope to continue employing him.'
'I am aware that Alice has committed a driving offence. This behaviour is completely out of character, and I have never known her to break the law. Alice is a giving person and volunteers work at the local primary school. She has always supported me as a work colleague and close friend.'
The nature of offending or type of offence
If you have been asked to write a character reference for court, it is essential to communicate to the court your knowledge of the individual and their personal circumstances in the context of their offending. Consider the following examples for various types of offences.
If the Defendant is pleading guilty to assault charges
It is important to indicate whether the defendant is generally a violent person or whether this was a one-off incident.
'I know John is pleading guilty to assault charges' or 'hurting someone'. 'I have known John a long time since coaching the junior footy team together. I have never known him to hurt someone or to get in any trouble like that before.'
If the Defendant is pleading guilty to drink driving charges
It is important to indicate if you know whether the person has been drinking less since the incident and whether they have insight into their conduct.
'I know Jane is pleading guilty to driving under the influence. Jane started drinking heavily when her brother suicided 2 years ago. She told me she is drinking less since the offence and is attending group therapy. She was devastated that she could have hurt someone, and being caught has been a wake up call.'
If the Defendant is pleading guilty to drugs charges
It is important to indicate if you know whether the person is seeking treatment for drug issues and whether they have insight into their conduct.
'I know John is pleading guilty to drugs charges. John has struggled with his addiction over the years. He has told me that he feels like he has hit rock bottom since these charges and that he is ready to seek support. He told me that the drug and alcohol counselling has been helpful.'
If the Defendant is pleading guilty to dishonesty charges
It is important to indicate if you know whether financial difficulties led to the charges, whether the person has repaid the value of items stolen, or whether they have apologised for their actions.
'I know Jane has pleaded guilty to theft. She told me that she has been in serious financial trouble and has been hiding her gambling problem. Jane has been saving to repay the value of the stolen items. She seems relieved that she cant hide her problem anymore and has been getting therapy to address her gambling.'
If the Defendant is pleading guilty to domestic violence charges
It is important to indicate if you know whether the person is making attempts at rehabilitation, such as attending a behavioural management program, counselling or other support.
'I know John has been charged for being violent at home. He told me he is devastated that he hurt his family. He has been doing the Men's Behaviour Change Program and said he regrets not getting help sooner. I have noticed that John is more insightful and is finally doing work to process his own trauma. He also said he wants to do voluntary work with the men's group to support others in similar situations.'
Where to send the character reference
Character references should be given to the defendant and their criminal lawyer for review. DO NOT SEND THEM DIRECTLY TO THE PROSECUTION OR THE COURT
The defendant's criminal lawyer can help you identify what information is relevant to the Court and should be included or excluded from your character reference.
Need advice writing a character reference letter?
The first point of call for obtaining advice about how to write a character reference is always the criminal lawyer representing the accused person. If they are not responsive, you might want to advise the accused to find a different criminal lawyer who will respond. Getting character references right is always very important.
Character reference for court examples