Geelong Criminal Lawyers "We Take Your Side"
Police in Greater Geelong have charged people in the area with more than 17, 000 criminal charges in the last year. Have you been charged with a crime? The best way that you can ensure that a Magistrate or Judge hears your point of view is to make sure you have one of our specialist Geelong Criminal Lawyers representing you in court.
If you are facing criminal charges, don't leave your fate to chance. It is better for you to spend some time and contact a law firm that has the experience and the know-how to represent you in the best possible way. You might think that a criminal record will not impact you now, but the amount of calls we get where potential clients are asking to change outcomes that happened 10 years ago is astronomical. Don't be that person.
Dribbin & Brown Criminal Lawyers are the first call you need to make for any criminal charge – theft, arson, burglary, assault, drug charges – there are always two sides to every story. Get a trained advocate to make sure that the court gets to hear yours.
There are few things in life as stressful as being on trial for a criminal charge, especially if there is a risk of being held in custody if you are found guilty. You have to decide how you are going to plead, and you need a strong legal team behind you to help you articulate that decision.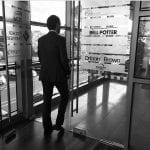 Being charged with a crime might make you feel like your whole world is falling apart. All of a sudden your lifestyle, livelihood and freedom may be at stake and you need to do what you can to address it. This is not the best time to try to go it alone – you wouldn't try to operate on yourself if you were sick – you would go to a doctor. Just like in that scenario, you really need a lawyer if you need to go to court.
Dribbin & Brown Criminal Law is a firm that is used to running contested hearings in the Geelong Magistrates' Court and jury trials in the Geelong County and Supreme Courts. Not every firm has this experience of running long trials multiple times a year. A criminal trial is a big undertaking and you need experienced trial lawyers to guide you through the process. You need a firm that not only works well with you, but will brief a barrister who is the best fit for your circumstances and case. It is critical that you get the right tool for the job.
Geelong Criminal Lawyers Dribbin & Brown
Dribbin & Brown Criminal Solicitors Geelong will treat you as the valued client that you are. We are there from the first day to help you gather evidence, identify helpful witnesses and to make sure that your trial runs smoothly. We are on your side.
Even if your matter is a small one, traffic fines that have mounted up for example, we can still help you by speaking of your behalf to a Magistrate. We can be your advocate and make sure you are speaking to ears who will listen.
Dribbin & Brown Criminal Law your best choice for respectful, accurate legal representation. Make your best choice today. 03 8644 7300