Drug Charges | Drug Lawyer
Drug offences range from drug use or possession charges to trafficking of a large commercial quantity of a drug of dependence. Commonly prosecuted drugs of dependence are cannabis, methamphetamine (ice), heroin, GHB, LSD, ketamine and cocaine. Depending on the substance and quantity, an accused person might be charged with possession of a small quantity, trafficking or cultivating a drug of dependence. Crimes in relation to these substances carry different tests in terms of what is determined to be a small quantity, a prima facie traffickable quantity, a commercial quantity or a large commercial quantity.
Drug offences can be charged under State or Commonwealth law. Victorian drug charges exist in the Drugs Poisons and Controlled Substances Act 1981 and Commonwealth drug offences under the Criminal Code Act 1995 (Cth).
The Drugs Poisons and Controlled Substances Act also contains offences relating to:
The possession of items used in the cultivation (typically cannabis) or manufacture of illegal drugs; and

Offences directed at retailers who sell items used in connection with consuming drugs (such as bongs or ice pipes)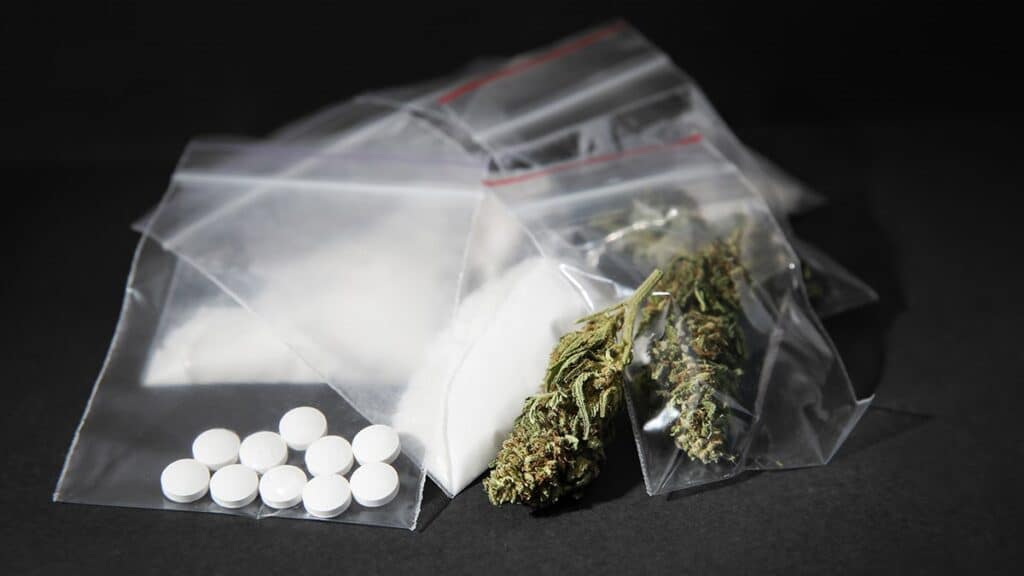 Have you been charged with a drug offence?
If you have been charged with a drug offence, we are here to help you. We have offices in Melbourne, Ballarat, Dandenong, Geelong, Frankston, Moorabbin and Ringwood, and our drug lawyers regularly appear in these locations representing clients charged with drug offences. No matter how serious the charges you face, an experienced drug charges lawyer with a detailed understanding of the legislation and common law is essential to achieve the best outcome in your case.
Seeking advice early from an experienced criminal defence lawyer could be the difference between being found guilty or not guilty to drug charges. Whatever the charge, a finding of guilt has potentially severe implications, including obtaining a criminal record and imprisonment. You must speak to an experienced drug offence lawyer before making any formal record of interview.
Types of drug offences
There are a range of offences related to illegal drugs, including possession, use, manufacture, cultivation and trafficking of drugs of dependence. The type of offence charged depends on the drug of dependence in question and the quantity of the drug possessed, trafficked or cultivated. At Dribbin & Brown Criminal Lawyers, we have experienced drug lawyers available to defend all types of drug charges.
While the relevant acts of trafficking, cultivation and or possession may overlap in some cases, s 51 of the Interpretation of Legislation Act 1984 prohibits liability for punishment more than once for the "same act or omission". In circumstances in which the offending conduct for trafficking, cultivation and possession completely overlap, a conviction may only be recorded in relation to one of the offences (R v Filipovic [2008] VSCA 14). Such overlap may occur, for example, if an accused is charged with trafficking based on the facts that the plants were in the accused's possession for sale (see R v Mason [2006] VSCA 55; R v Filipovic [2008] VSCA 14).
Possession of a drug of dependence
Possession of a drug of dependence is one of the most commonly committed drug offences. Being in possession of a drug of dependence can mean having a prohibited drug on your person or in the property that you occupy. This can extend to growing cannabis anywhere on the property. You can also be charged with possession if drugs are found in your car or any car you are driving.
While possession of a drug of dependence can be punishable by imprisonment in cases involving large quantities of drugs for trafficking, most drug possession charges are dealt with in the Magistrates' Court and involve small quantities possessed for personal use.
A person with no criminal history may be eligible to have their case dealt with via a diversion program. Successful completion of a diversion program means that an offender does not receive a criminal record.
The police also have the discretion to issue a caution for a person found to be in possession of a small amount of an illicit drug instead of being charged. Police may issue a maximum of two cautions only. To receive a caution:
the person must admit the offence

the drugs must have been possessed for personal use only

police must be satisfied that the person was using or has been in possession of an illicit drug

the total amount of drugs must be a

small quantity

as set out in the Drugs, Poisons and Controlled Substances Act 1981

the person must undertake a clinical assessment and commence a drug treatment program within 5 working days.
This means that no charges are laid on the condition that the person attends a session of drug-related counselling. If a person complies with the conditions of the caution, then no charges are laid, and no conviction is recorded. Alternatively, you may be charged and have to go to court. Repeat offenders will typically be convicted and fined.
Cultivating narcotic plants
There are three cultivation offences under the Drugs, Poisons and Controlled Substances Act 1981 (Vic):
Narcotic plants are specified in Column 1 Schedule 11 Part 2 of the Drugs, Poisons and Controlled Substances Act 1981 and include cannabis, coca, and opium poppy plants. 'Cultivate' is defined broadly to include sowing a seed of a narcotic plant; planting, growing, tending, nurturing, or harvesting a narcotic plant; or grafting, dividing, or transplanting a narcotic plant (s 70(1)).
The penalty for cultivation depends on the quantity of the narcotic plant in question. Cultivation of a large commercial quantity is liable to level 1 imprisonment (life), a commercial quantity is liable to level 2 imprisonment (25 years), and cultivation unrelated to trafficking is liable to level 8 imprisonment (1 year and/or fine).
Unlike the related offences of trafficking and possession, which require the prosecution to prove that the accused intended to traffick or possess a drug of dependence, the prosecution does not need to prove that the accused intended to cultivate a narcotic plant for the cultivation offences (R v Pantorno [1988] VR 195). This is because section 72D of the Drugs, Poisons and Controlled Substances Act 1981 creates a defence to a charge of cultivation (against ss 72, 72A, 72B or 72D(2)) for an accused who can prove that they did not know or suspect, and could not reasonably have been expected to have known or suspected, that the narcotic plant was a narcotic plant (s 72D). In R v Pantorno, the court held that this defence places the onus on the accused to prove on the balance of probabilities that they did not hold the requisite intention rather than requiring the prosecution to prove that intention.
To be convicted of cultivating a commercial quantity of cannabis, however, a person must have intended to cultivate at least that quantity of cannabis. That is, 25 kg of cannabis plants or 100 cannabis plants (sch 11 pt 2).
Attempted cultivation
The cultivation offences address completed acts of cultivation as well as attempts at cultivation. A person charged with attempting to cultivate narcotic plants is liable to the same maximum penalty as a person charged with the completed form of the offence. The law concerning attempted cultivation, therefore, differs from the usual practice for indictable offences, which applies a lower maximum penalty for attempting to commit an offence (Crimes Act 1958 s 321P).
Drug trafficking
There are four trafficking offences under the Drugs, Poisons and Controlled Substances Act 1981 (Vic):
Drugs of dependence are listed in Schedule 11 of the Drugs, Poisons and Controlled Substances Act 1981 (Vic) and include drugs such as cannabis, heroin, cocaine, amphetamine-type drugs (including MDMA/ecstasy and methylamphetamine/ice), precursor substances (used to make final drug products), and steroids.
'Traffick' is broadly defined in s 70 to include:
preparing a drug of dependence for trafficking;

manufacturing a drug of dependence; or

selling, exchanging, agreeing to sell, offering for sale, or having in possession for sale a drug of dependence.
This definition of trafficking drugs is so broad to capture an incomplete attempt to pass drugs of dependency into the community so the distinction between a completed offence and an attempt may be difficult to discern on occasions (R v Mihalo).
Importantly, a drug does not need to reach the market to constitute the offence of trafficking. As with the cultivation offences, trafficking offences encompass attempts to traffick as well as completed acts of trafficking. Therefore, a person found guilty of attempted trafficking in a commercial quantity of drugs under s 71AA is liable to the same maximum penalty as if they had completed the act of trafficking (R v Mihalo). This reflects the legislative policy that the potential harm of a manufactured drug is viewed as seriously as the actual harm arising from a distributed drug (Chandler v The Queen; Paksoy v The Queen [25]).
Victoria's drug trafficking offences are distinguished by the amount of drugs trafficked or the amount an offender intends to traffic. The thresholds for a commercial quantity or a large commercial quantity depend on the type of drug trafficked and whether the drug is pure or mixed with other substances. For example, to be convicted of trafficking in a large commercial quantity of MDMA, the accused must have intended to traffick in at least 1.0 kg of MDMA in mixed form or 750 g in pure form.
See 'Drug Trafficking: What are the quantities? for the relevant thresholds for common drugs.
Should I make a comment interview for drug charges?
In some circumstances, there may be some benefit in assisting police in a record of interview. If the charge relates to possession, particularly where the person of interest has a clean record and is only picked up with a small quantity of drugs, cooperation can be a good idea. In these circumstances, Diversion is a likely outcome, and if approved by a Magistrate, will result in no conviction being recorded. See 'What is a diversion?' for more.
In other circumstances, particularly if the police are considering a trafficking charge, they may have very limited evidence of trafficking but a strong circumstantial case based on the possession of drugs. Here, a "no comment" interview is likely to be the best course.
This is generalised advice, and every case is different. If you are going to be interviewed with regard to drug charges, then you must seek advice from a drug offence lawyer. It could be the difference between a drug conviction being recorded or not.
Where is a drug offence case heard?
The Magistrates Court has jurisdiction to hear cases involving charges of drug possession, cultivating and trafficking that do not allege a commercial or large commercial quantity. Schedule 2 of the Criminal Procedure Act 2009 sets out a list of indictable offences triable summarily, which can heard in the Magistrates court like summary offences.
If you have been charged with trafficking a 'commercial' or 'large commercial quantity' of a drug of dependence, then your matter must be heard in the County Court. Occasionally, very serious cases are held in the Supreme Court.
If you have been charged with trafficking a drug of dependence, consult experienced drug offence lawyers to help you deal with this criminal charge.
Asset confiscation and restraining orders in relation to drug offences
In more sophisticated drug operations, the police may seize money and confiscate assets alleged to be the proceeds of crime. This is an area where people are often caught out.
Clients need to be mindful that if they intend to plead guilty to a Commercial Quantity Trafficking/Cultivation charge, their assets may be confiscated or initially subjected to a restraining order. See 'Proceeds of Crime, Forfeiture & Asset Confiscation' for more.
Again, each case is different, so it is crucial that you seek legal advice as early as possible when facing any drug prosecution. The law is complicated and technical, and these cases should be handled by drug defence lawyers with experience. Dribbin & Brown Criminal Lawyers has an extensive history in handling drug cases.
If you are about to be interviewed or have already been charged, call our office today to make an appointment with one of our experienced drug offence lawyers.